Six Ball Parks, Seven Games, Four States, Two Cubs Wins, Fifteen Days
It was the perfect storm and it did not rain. I was in Anaheim, California for a conference ahead of the Easter holiday when I planned a week off to visit family, I thought it might be fun to check out some of the West coast ballparks I have been seeing on television since the days of Jack, Lou and Vince. My hope was to see a game or two when all of a sudden the baseball scheduling gods presented me with the perfect storm of a Road Trip without a drop of rain. I was able to see games in Los Angels, Phoenix, San Diego on the West Coast. After this I decided to see my Cubs play in Milwaukee and then at home to complete the fortnight (plus one day) of the Perfect Storm Road Trip.
Los Angeles Dodgers at Dodger Stadium in Los Angeles, California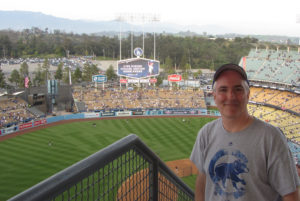 As previously mentioned – I would watch the Cubs play the Dodgers on television as a kid and kind of adopted them as my second National League team while growing up. I always hoped (and still do) see the Cubs play at Dodger Stadium. If I could not see the Cubs play the second best game had to be against the Dodgers greatest rival the Giants from just up the road in San Francisco on March, 30, 2018.
First thing I had to do was get myself from Orange County to Dodger Stadium on a Friday. Having lived my life in the suburbs of Chicago and traveling down to Wrigley Field I have become accustomed to traffic. Los Angeles traffic is no different with one exception. In Chicago I know where I am going and in L.A. I was prisoner to the GPS that I think has a twisted sense of humor getting me off and back on the expressways with no explanation. Good thing I allowed two hours to go the 30 miles as I needed it all.
Los Angeles Dodgers at the Arizona Diamondbacks in Phoenix, Arizona
After visiting family over Easter weekend in Nevada I headed to Phoenix on Monday, April 2, 2018 to see the Diamondbacks host the Los Angeles Dodgers. The Dodger fan were well represented at Chase Field on this Monday night. It was an early start for a game that went a lot longer than I anticipated thanks to some late inning heroics by the home team.
Chase stadium is located in what seemed to be an industrial section of the city and felt kind of like a warehouse when I initially walked into the stadium. This feeling disappeared as they opened these giant like windows in the outfield and rolled back the roof. Once they did this the Chase Field felt more like a baseball field.
Colorado Rockies at San Diego Padres at Petco Park in San Diego, California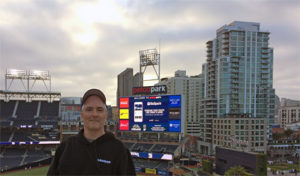 I did not think I would find a park that could compete with PNC Park in Pittsburgh among the new ballparks. However, Petco Park might just be the best new ballpark I have been too so far. I do not include Wrigley as a new ballpark since it hit the century mark a few years back.
This park has it all. Great sight lines, family friendly atmosphere, and plenty of micro-brews to to chose from for those over 21. I was able to go to two games in San Diego and wish that I could have attended more.
Oakland A's at Los Angeles Angels in Anaheim, California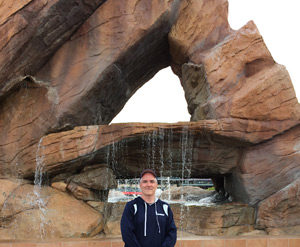 This was my second Friday evening in a row watching baseball in Southern California. This Friday (April 6) I was able to watch the Angels as they came back to beat the A's. There was electricity in the stadium as fans came out to see who many people feel is the best player in baseball – Mike Trout and rookie pitching/hitting sensation – Shohei Ohtani. This evening the Angels did not disappoint their fans. Shohei Ohtani became the first player since Babe Ruth to hit three home runs between pitching starts. That is pretty good company.
Chicago Cubs at Milwaukee Brewers in Milwaukee, Wisconsin
Just because I flew home on Saturday did not mean the trip was done. After trying to catch up on my sleep I headed up to catch the Cubs play the Brewers with JP, Kelly and Tommy. It was a little cooler in the Midwest so I was happy to see the dome closed and the heat on at Miller Field. I could not go on a baseball road trip without seeing my Cubs play. They did not disappoint as they beat the Brewers on the last day of my vacation. We always have a great time in Milwaukee where they have some great fans.
Atlanta Braves at Chicago Cubs in Chicago, Illinois
There is only one place this Perfect Storm Road Trip could end and that was at Wrigley Field. There also happened to be a not so perfect storm occurring in Chicago. This had to be the coldest game I have ever attended at Wrigley Field and most people were surprised they played the game. I usually do not attend April baseball in Chicago because you can always count on miserable weather and today was no exception. However, a cold and rain day at Wrigley Field is always a beautiful day.
The perfect Storm Road Trip ended after seven games in four states. I received sun burn in San Diego that almost turned into frostbite in Chicago. Would I do it again – in a minute. Now I have to plan my next road trip.