Colorado Rockies at San Diego Padres at Petco Park in San Diego, California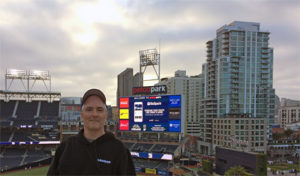 I did not think I would find a park that could compete with PNC Park in Pittsburgh among the new ballparks. However, Petco Park might just be the best new ballpark I have been to so far. I do not include Wrigley as a new ballpark since it hit the century mark a few years back.
This park has it all. Great sight lines, family friendly atmosphere, and plenty of micro-brews to to chose from for those over 21. I was able to go to two games in San Diego and wish that I could have attended more.
To be honest with you I have not liked the Padres since about (make that exactly) 1984 for one reason that I will not discuss with the exception to say I do not hold as much of a grudge since an unseasonably warm night in Cleveland in 2016.
I took the Trolley in from a friend's house for a night game in the asternoon of April 4. I was able to get downtown before the gates opened and was able to explore the Gaslamp Quarter and get a late lunch. This area is like as if they dropped Wrigleyville in downtown Chicago with an incredible light rail system. All this and no snow.
I entered through the gate in the outfield that leads you into a park on a hill with a view of the stadium. This is a perfect place to watch batting practice or have a picnic at the base of the Tony "Mr. Padre" Gwynn statue. Tony Gwynn was one of my favorite hitters. They even have a baseball park for kids and bars surrounding the park for adults.
I walked around the stadium before the game and towards the end of the game and there does not seem to be a bad seat in the house. I kind of wanted to watch an inning or two from the park beyond center field but ran out of time.
On Thursday, April 5 I got to see my first afternoon game of the season and sat real close thanks to my friend Peter who went to the game with me. This place is great place for day baseball and the city of San Diego shines just beyond the outfield.
Unfortunately for Padre fans their team struggled and lost both games I attended against the Rockies. They have some work to do on the baseball front to match the stadium. If you are going to visit any of the new stadiums of baseball I would put Petco at the top of your list.
I still don't like Steve Garvey.
Scores: