San Francisco Giants vs. Los Angeles Dodgers in Los Angeles, California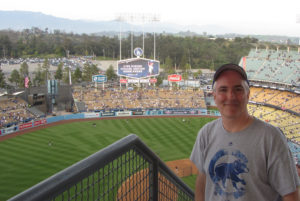 I would watch the Cubs play the Dodgers on television as a kid and kind of adopted the Dodgers as my second National League team while growing up. I always hoped (and still do) to see the Cubs play at Dodger Stadium. If I could not see the Cubs play the second best game had to be against the Dodgers greatest rival the Giants from just up the road in San Francisco on March, 30, 2018.
First thing I had to do was get myself from Orange County to Dodger Stadium on a Friday. Having lived my life in the suburbs of Chicago and traveling down to Wrigley Field I have become accustomed to traffic. Los Angeles traffic is no different with one exception. In Chicago I know where I am going and in L.A. I was prisoner of the GPS that I think had a twisted sense of humor getting me off and back on the expressways with no explanation. Good thing I allowed two hours to go the 30 miles as I needed it all that time for the journey.
I was so psyched to see my first game ever in Dodger Stadium, my first game ever in March, and my first game of the 2018 baseball season. I did wear a Cubs shirt and my Cubs hat that has been to Alaska and Ireland and always brought me good luck. I tried to ignore references to the Dodgers winning the National League Pennant in 2017 by thinking about the 2016 NLCS.
I was struck how nice the people who worked for the Dodgers were and how they welcomed a Chicago Cubs fan into their house. They seemed to go that extra mile to make me feel welcomed. I even received a button commemorating my first game at Dodger Stadium.
Getting to the stadium early allowed me to look around the stadium and even over the city. It is a beautiful stadium that they have kept up well. The site-lines are great and it was a great atmosphere for baseball even in March. I have a feeling the Cubs and Dodgers will play some more meaningful baseball in the future.
You could not ask for a better game than a picture dual that had the visitors winning 1-0.
Below are thumbnail pictures. Just click the first picture and you can scroll through pictures from my day and evening.
Score: