Oakland A's at Los Angeles Angels in Anaheim, California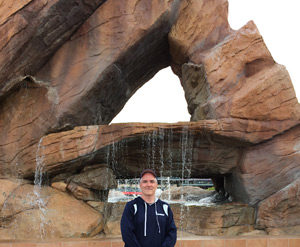 This was my second Friday evening in a row watching baseball in Southern California. This Friday (April 6) I was able to watch the Angels as they came back to beat the A's. There was electricity in the stadium as fans came out to see who many people feel is the best player in baseball – Mike Trout and rookie pitching/hitting sensation – Shohei Ohtani. This evening the Angels did not disappoint their fans. Shohei Ohtani became the first player since Babe Ruth to hit three home runs between pitching starts. That is pretty good company.
As I arrived at the stadium before the gates opened there was already a big line forming. I could not tell if they were more excited to see Trout and Ohanti or to get the free Albert Pujols statue. A local fan told me it was a little of each. If they got there early they were happy for the statue and if they stayed for the whole game they had to be happy with the outcome.
Angel Stadium is two years newer than the the cross town rival Dodger stadium. While newer I felt it lacked the character of Dodger Stadium. This might just be because I watched a lot of Dodger and National League baseball growing up. Also, this was my fourth stadium in a week.
These people came to watch baseball and seemed pretty hard core Angel fans. Their team delivered with a late comeback victory and Ohtani thrilled the crowd with a home run. The Angels have an all star lineup that will go as far as their pitching takes them.